Official Visit of the Union Minister of State for Commerce and Industry Smt. Anupriya S. Patel in Greece
Union Minister of State for Commerce and Industry Smt. Anupriya Singh Patel arrived in Athens on April 14, 2022 to co-chair in the 8th meeting of the Joint Economic Committee (JEC) and to have a series of meetings with Greek politicians and members of the Indian diaspora.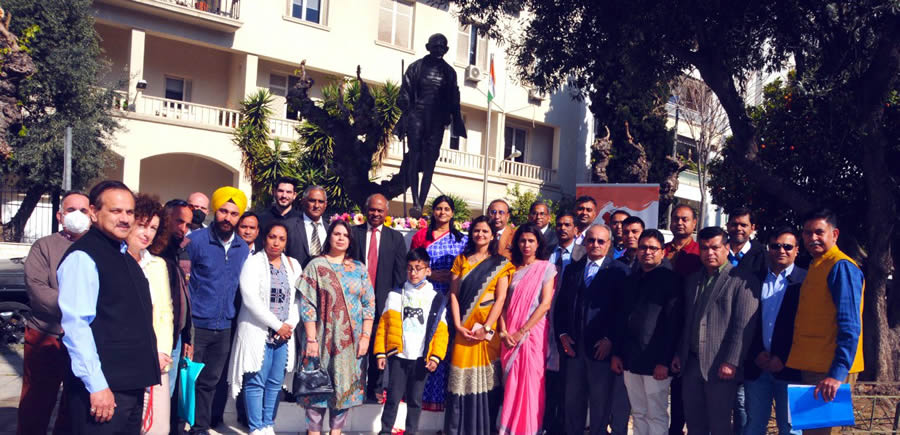 The Greece-India Joint Economic Committee met in Athens on Friday, April 15, 2022, and completed its work with the signing of a Protocol by Deputy Minister of Foreign Affairs for Economic Diplomacy and Openness, Kostas Fragogiannis, and the Minister of State for Commerce and Industry of India, Anupriya Patel. A Memorandum of Cooperation was also signed between Enterprise Greece and the respective body of India, Invest in India.
This is the Committee's 8th Session – the previous one was held in New Delhi in 2016 – which confirms the momentum that has been created for the enhancement of economic and trade relations between the two countries, following the recent visit of Minister of Foreign Affairs Nikos Dendias in New Delhi in March 2022.
The Session's agenda included the strengthening of bilateral trade of goods and services, cooperation in the field of renewable energy, the improvement of air and maritime link, as well as the enhancement of cooperation in the tourist sector.
Previously, at noon on April 14, the Indian MoS met with the Minister of Rural Development and Food, Mr. Georgios Georgantas. The subject of the discussion, which took place in a friendly atmosphere, was the cooperation between the two countries, mainly in matters of trade in agricultural products and exchange of know-how.
Smt. Patel also met with Deputy Minister of Development & Investment Mr. Christos Dimas. The focus of their contacts was the deepening of cooperation in science, research & innovation, agricultural economy, RES, tourism, etc.
During her visit to Athens, the Indian MoS held an interaction with members of the Indian community living and working in Greece and offered flowers in memory of Baba Saheb Abedkar at a special event organized by the Indian Embassy on the occasion of the 131st anniversary of his birth.
She also visited the Benaki Phytopathological Institute (established in 1929) to explore cooperation between the institute and Indian counterparts.

In honor of the Indian Minister, the Embassy of India in Athens organized a reception at a central hotel in Athens which was attended by Deputy Minister for Foreign Affairs Mr. Konstantinos Fragogiannis and members of the Business and Economic Life of the country. ELINEPA was represented by the General Secretary Mr. Antonis Papadopoulos and the Greek-Indian Business Association (GIBA) by the Director of Public Relations Mr. James Mimikos.
Article photo: Shrimati Anupriya S. Patel, MoS for C&I and Mr. Fragogiannis, Greek Deputy Minister for Foreign Affairs signed a Protocol Agreement at the end of the 8th JEC.